Chairperson: Brendan Lenihan is Managing Director of Navigo Consulting which specialises in strategy, business planning, governance and change. He holds a Bachelor of Commerce degree from UCC and a Diploma in Professional Accounting from UCD. Brendan is a Chartered Accountant and a former President of Institute of Chartered Accountants in Ireland. During his career, he has also held a number of executive roles in industry including as Group Finance Director for a multinational property company. Prior to this, he was a Partner with Andersen Business Consulting, with whom he worked in Ireland and the US, leaving to create his own consulting practice. He lives in Ovens Co. Cork with his wife and three young sons.
Celine Fox is an Audit Partner in KPMG. She has over 20 years' experience providing audit, accounting and advisory services to a wide range of multinational, indigenous and semi-state organisations. Celine has a specialist focus on the healthcare/pharmaceutical and software/technology sectors. Celine has extensive experience serving large multinational organisations with shared service centres in Ireland, with responsibility for delivering pan-EMEA audits including audits of internal controls over financial reporting.
Celine sits on the Advisory Board of the Master of Accounting Programme at University College Cork.
Celine is currently involved as a student mentor under the Business In the Community Ireland Programme.
Celine is a Chartered Accountant and holds a B.Comm from National University of Ireland Galway. Celine lives in Cork with her husband and young son.
Paddy Caffrey grew up in Donegal, went to St Columb's College, Derry, then UCD and worked with ESB in Dublin for 5 years before moving to Cork. Paddy worked at Pfizer at their manufacturing facilities at Ringaskiddy, Co Cork for 30 years, his final 10 years as Managing Director. Retiring early, Paddy undertook several mentoring projects; was Chair of Governing Body at CIT (2006 to 2011); President of Engineers Ireland (2004/2005); and is currently Chairman at Seabrook Technology and a board member of Bon Secours Health System.
Deirde Carwood, is a partner in Forensic Services in Deloitte Ireland. She is a senior forensic accountant with over 20 years' experience in developing and leading financial crime solutions in the areas of fraud investigations, bribery, corruption and money laundering. Deirdre has led many large high profile investigations in Ireland and overseas and has been involved in numerous commercial disputes in the Commercial and High Courts in Ireland. Deirdre also lectures on topics including forensic accounting, white-collar crime prevention and anti-bribery & corruption for Chartered Accountants Ireland and the Institute of Banking Ireland.
Deirdre has acted as a mentor for Social Entrepreneurs Ireland. 
She holds a BA in Accounting and Finance and a Masters of Business Studies in Accounting from Dublin City University.  She lives in Cork with her husband and three children.
Sinead Corcoran is Chief Legal Officer of Bon Secours Health System CLG. 
She was formerly a partner in the Corporate and Commercial Department of Ronan Daly Jermyn where she worked for 16 years.
 Sinead holds a BCL (Hons) degree from University College Cork and qualified as a solicitor in 2001. She is a recipient of the prestigious Findlater Scholarship awarded by the Law Society of Ireland.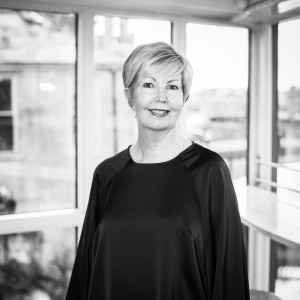 Tina Quinn, MPRII, is a Client Director at AM O'Sullivan PR Ltd. She has worked in the communications industry since 1990 and holds the Public Relations Institute of Ireland (PRII) Diploma in PR.
Tina worked with O'Sullivan Public Relations Limited from 1990 and joined the team at H+A Marketing + PR when the agency merged with O'Sullivan Public Relations in January 2008. In March 2015, she joined long-term colleagues Ann-Marie O'Sullivan and Robin O'Sullivan in establishing AM O'Sullivan PR Ltd.
Tina has significant experience and expertise in corporate PR, including strategic planning, crisis and issue management, stakeholder engagement, media relations, project management and event management. She works across a number of key corporate client accounts at AM O'Sullivan PR Ltd.
Deirdre Madden is Professor of Law at University College Cork specialising in healthcare law and ethics. She is also a qualified barrister and a member of the Royal Irish Academy. Deirdre has extensive experience of the Irish healthcare system having been a member of numerous expert advisory boards, commissions and national working groups. She has served on the boards of professional regulatory bodies including the Medical Council and CORU, as well as the boards of HIQA and the South/Southwest Hospital Group. She has been a Visiting Professor in the UK, US and Australia and has been an expert reviewer for the European Commission for twenty years.